Many researchers spend their entire life trying to publish a paper in Nature, Science, Cell, or other top journals. In 2021, out of 1.7M papers published in PubMed, only 0.3% are in top journals. That's why researchers will open their eyes wide if you show them papers in the top journals.
So why not show off your best citations to make your customers' eyes wide open? Our Smart Embed Code offers a component called "Top Journal List" making it easy to show these papers. Below is a screenshot.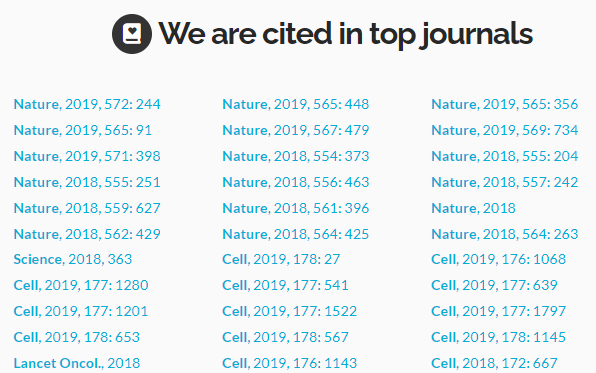 Any researcher will be impressed by this list. It shows that your product has been used in the finest research and thus will boost your credibility.
The list above is generated by this line of code:
<div id="bizgenius-citation-widget-container-list-top" data-maxnum='100' data-minif='20' style="width:100%;"></div>
It's very easy to adjust the number of top papers to show, the threshold of impact factor, and the style. You can even show a list of top papers of a particular product.
---
If you want to show your best citations on your website, please feel free to contact us.