Our Citation Tracking service is able to track preprint articles. Recently, a survey was conducted among Stanford postdocs about this type of articles. Are preprints important? When do Stanford researchers upload their manuscripts to preprint platforms such as biorxiv? What are the positives and negatives of preprints? Here are the results.
Timing for Uploading Pre-prints
90% of the responders upload their manuscripts to preprint platforms such as biorxiv. In terms of timing, 80% upload at the time of submission to the journal.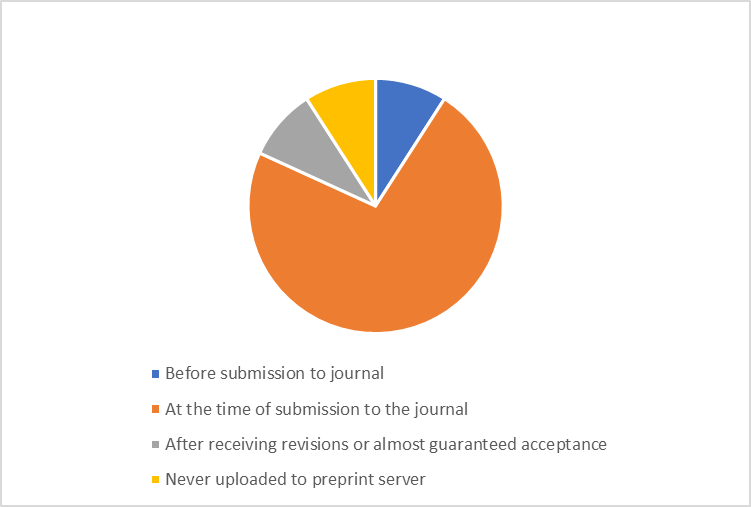 Reasons for Uploading Pre-prints:
For job interviews/applications: 3 responses
To be citable during the review process: 2 responses
To claim priority for the research: 1 response
Due to working in a competitive space: 1 response
As a matter of lab practice (always do it): 1 response
Positive Outcomes from Pre-prints:
Aid in job search and interviews: 2 responses
Able to be cited earlier: 2 responses
Broader dissemination and readership: 1 response
Aid in fellowship applications: 1 response
Negative Outcomes from Pre-prints:
Decreased traffic to final version of the paper: 1 response
Potential citation split between pre-print and final version: 1 response
Mentioned Platforms:
bioRxiv: 9 mentions
Research Square: 1 mention
Final Thoughts
This survey suggests that the majority of researchers see the benefit in uploading manuscripts as preprints at the time of journal submission. The reasons vary, from claiming scientific priority to making the research citable in its early stages. However, there are also some potential downsides, like the dilution of citations and reduced traffic to the published article.