Identifying key opinion leaders (KOL) is an important task for life science companies. Not only are they able to provide valuable feedbacks, but they also help promote your product or service through word-of-mouth marketing, social media, and other means of communication.
But how to find them?
In life sciences, KOLs, whether they are renowned scientists or famous physician, publish papers. Publication data offers an objective and authentic measure of the impact of a KOL. However, reading through thousands of publications can be time consuming and inefficient. Fortunately, with a right tool – Deep Analysis for example – you are able to create a list of KOLs in a few minutes.
For example, if you are selling exosome related products and services, and you want to find out the experts in this field. You simply enter "exosome" as a keyword in our Deep Analysis platform and press Enter:

Then the program will use your keyword to search PubMed, download ~10,000 publications, and analyze the authors. It will count the number of publications each author published, and also the impact factor of each journal. In a few minutes, it will give you the following report: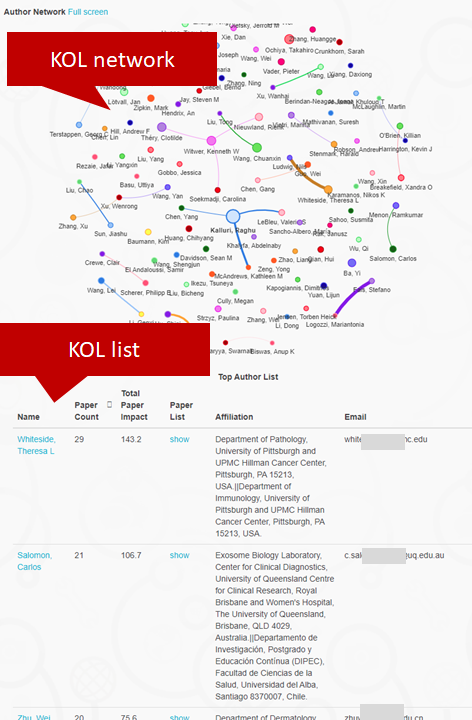 First, it will report the author network in an interactive graph, with bigger circle representing KOL with larger impact. With this graph you can easily identify the connections between the KOLs.
Second, it will list the KOLs in a table, show their names, link to their Google results, the number of papers they publish, the total impact factors of their papers, affiliation, and Email address. The table can also be exported into an Excel format for you to further analyze.
---
Here we showed how you can identify KOLs easily using Deep Analysis. If you want to use this tool, please feel free to let us know.